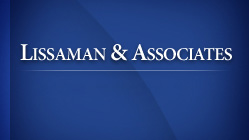 AN EXPERTISE IN
STOCKBROKER LAW AND COMMERCIAL LITIGATION
Lissaman & Associates


188 Avenue Road
Toronto, Ontario M5R 2J1
Phone: (416) 323-1394
Fax: (416) 946-1442
Email: hlissaman@lissamanlaw.com
About Hugh Lissaman

• A graduate of the University of Western Ontario, Huron College; BA Economics - 1986

• Graduate of Queen's University Law School - 1989

• Called to Ontario Bar in 1991

• Member of the Advocates' Society, the Ontario Trial Lawyers Association, the Canadian Bar Association, and the Metropolitan Toronto Lawyers Association.

• A practice focused primarily upon stockbroker/investment dealer litigation and regulatory enforcement. To maintain a broad perspective on the issues, Hugh Lissaman acts for both plaintiffs and defendants in this area of specialty. He has appeared as counsel in numerous trials and before appellate courts, and regulatory tribunals.

• He has also written numerous articles in this area of practice and has presented such papers to the Canadian Securities Institute, the Canadian Bar Association, the Annual Judge's Conference, and the Montreal Franco-Phone Bar.

• He was counsel in the precedent setting case of Blackburn v. Midland Walwyn Capital Inc. (2003) decision, which addressed such legal issues as ratification of trades, suitability of investments, unauthorized trading by stockbrokers, stockbrokers' obligations as required by regulators, and the duty of firms to warn clients about rogue stockbrokers who have recently had their employment terminated. A commentary on this case appeared in the National Post, Business Section, March 14, 2003;

• He was also lead counsel in the eleven month trial of Techhi Holdings Ltd. v. Midland Walwyn Captial Inc. (2005) decision, which addressed the competing legal obligations of brokers and those of clients.

• He also carries on a very active general commercial litigation practice.

Our offices are located in the prestigious Yorkville area of Toronto, at 188 Avenue Road, Toronto, Ontario, Canada. We can be reached by telephone at (416) 323-1394 and by fax at (416) 946-1442. Alternatively, please feel free to contact us by e-mail at hlissaman@lissamanlaw.com.